Hull City fans condemn Huddersfield ticket sanctions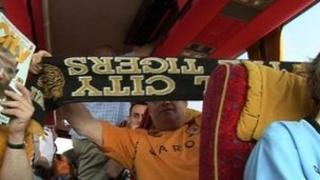 Police have angered football fans in Hull by imposing travel and ticket restrictions on them for next month's Championship clash in Huddersfield.
The kick-off time for the match on 30 March has been changed to 17:20 to allow Sky to broadcast it live.
West Yorkshire Police said it limited tickets for Hull fans to 1,500 and was making them travel on official coaches to avoid trouble from all-day drinking.
The Football Supporters' Federation wants the "draconian" rules overturned.
Amanda Jacks, from the federation, said: "Last season not one single Hull supporter got arrested for an alcohol-related offence.
"We very much hope that this can be resolved by dialogue and compromise but if it can't be then we have already spoken to solicitors and we will be exploring potential legal action which will hopefully force West Yorkshire Police to overturn this appallingly draconian decision."
Policing cost
Hull fans travelling to Huddersfield on official coaches will be greeted by officers and escorted straight in to the John Smith's Stadium, police said. No other Hull supporters will be able to enter the ground.
John Miles, a Hull fan living in Huddersfield, will have to travel the 71 miles (114km) to Hull and then back to Huddersfield on an official coach to see the match.
He said: "Effectively my match-day travel, which would be 20 minutes in each direction, will be extended to somewhere above six-and-a-half hours."
Nick Thompson, managing director at Hull City, said he hoped the rules could be changed but there would be enough coaches for all fans and extra pick-up points could be arranged if needed.
Supt Ged McManus, from West Yorkshire Police, said the tightened rules were necessary due to the late kick-off.
He said: "In order to facilitate this change a number of conditions were necessary to ensure that the match can be safely policed.
"We have asked for these restrictions to enable us to control the amount of fans attending the match and reduce the level of alcohol consumption, therefore decreasing any risk to the wider public in Huddersfield and reducing the cost of policing such a match for West Yorkshire residents.
"I understand that these measures will not be to everyone's liking but they are a result of consultation between ourselves, both football clubs and the Football League."