North Yorkshire flood control centre stands down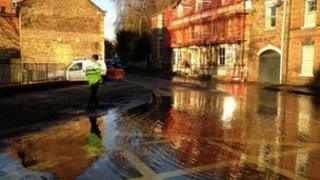 The Silver Command centre that monitored recent floods in North Yorkshire has been stood down, according to Ryedale District Council.
The unit co-ordinated the response from the emergency services, the Environment Agency, utility companies and local councils.
Supt Glyn Payne, of North Yorkshire Police, said the decision was made "due to falling water levels".
A water pumping unit is still operating in central Malton.
Pumps were brought in last month after river levels levels rose following the rapid thaw of snow and further rainfall.
A number of properties in the town were flooded by groundwater at the end of 2012.
The council said that "river levels and groundwater levels in the district are continuing to fall" and the Met Office forecasts "indicate very little rain or snowfall over the next few days".
Supt Payne said: "All agencies will continue to keep a very close eye on the situation throughout the district and are ready to respond should conditions suddenly worsen."