Missing Barbara Colling: Mountain rescue worker hurt during search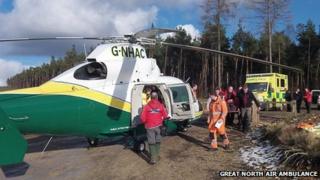 A rescue volunteer had to be airlifted to hospital when he fell while searching for missing North Yorkshire woman Barbara Colling.
The 39-year-old man, from Cleveland Mountain Rescue, was taken to James Cook Hospital by the Great North Air Ambulance suffering from a back injury.
North Yorkshire Police said he was one of around 130 people taking part in the search operation on Saturday.
Mrs Colling, 68, was last seen walking near Helmsley on 28 January.
Insp Andy Everitt said the man's injuries were not life-threatening.
"They're working in some challenging terrain, obviously they are experienced at working in these sorts of conditions," he said.
"The individual took a tumble and landed on his back."
The search for Mrs Colling resumed on Sunday. She has not been seen since around 09:30 GMT on 28 January, when she was walking along the B1257 towards Stokesley.