Motorist rescued from floodwater in Hawes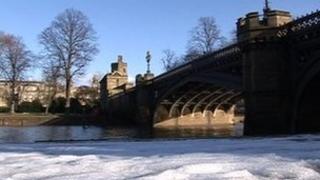 A motorist has been rescued from floodwater in a North Yorkshire village after overnight rainfall and melting snow caused localised flooding.
Firefighters had to push the motorist to safety after his car got stuck on a flooded road in Hawes.
North Yorkshire Fire Service said they were called to the incident on Burnt Acres Road on Sunday morning.
Two flood warnings and six flood alerts are in place for Rivers Nidd, Ure, Ouse, Foss and Derwent.
There was localised flooding in East Yorkshire and a flood warning is in place for the River Hull.
A spokesman for North Yorkshire Fire and Rescue Service said: "There are a few flood alerts coming in for flooded roadways.
"We would just advise motorists to take care and if they come across stretches of road with floodwater not to take any risks."
River levels risen
Elsewhere, a canoeist had to be freed by firefighters after he was trapped in a fast flowing beck in Reeth, the fire service said. He was taken to hospital by air ambulance.
The Environment Agency said 30mm of rain had fallen overnight in North Yorkshire, which, coupled with thawing snow, had caused river levels to rise.
Pete Connelly, from the Environment Agency, said: "We've got teams out on the ground keeping an eye on things and also clearing any debris that they come across."
Humberside Fire and Rescue Service said it had been called to Lockington, near Driffield, due to severe flooding on the main street. No properties were affected.
Firefighters were called to Holme Upon Spalding Moor where the rapid snow thaw caused localised flooding on Market Weighton Road.
A spokesman for the fire service said East Riding of Yorkshire Council was putting out sandbags in the area.