Snowfall prompts travel warning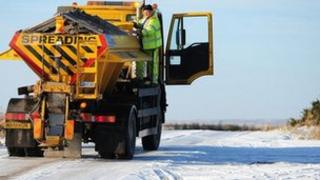 Residents and commuters across North Yorkshire are being warned of further snowfall later.
Forecasters have said eastern parts of Yorkshire could see between 2-5cm of snow on low ground and up to 10cm on higher ground.
A small number of schools in the east of the county closed early as a precaution.
A Met Office yellow warning has been issued which adds there is a risk of significant travel disruption.
North Yorkshire County Council said it expected significant accumulations of snow developing through Friday evening and into Saturday.
The weather has prompted train operator East Coast to lift ticket restrictions from London King's Cross on services after 10:00 GMT.
An East Coast spokesman said: "We are constantly monitoring predicted weather conditions along our route, and the latest information we have is that heavier snowfalls are expected between Peterborough and the North East on Friday afternoon and evening.
Commuter advice
"Our people are working hard to prepare our trains and stations as well as we can.
"Additional engineering teams will be based at key points on our route to keep trains moving, while Network Rail have snowploughs ready to keep tracks clear.
"Our advice to customers is, please check for the latest information before setting out, and allow extra time to reach stations as road conditions are expected to deteriorate through the day."
Passengers are also being advised to wear warm clothing, to ensure mobile 'phones are fully charged and to carry a hot drink with them in case of unforeseeable delays.
Meanwhile, the Yorkshire Ambulance Service said difficult weather conditions posed problems for their crews.
A spokesman said: "When temperatures plummet and snow and ice are on the ground, they traditionally see a marked increase in patients with breathing difficulties, weather-related incidents [such as] slips, trips and falls and road traffic collisions - all of which put additional pressure on their service."
David Williams, deputy director of operations, is heading the ambulance service's preparations ahead of the predicted big freeze.
He said: "We have plans in place to help us ensure we can continue to operate in the adverse conditions but [we] ask that the public also make their own plans to ensure they don't need to call us unnecessarily for assistance.
"Our staff will be working extremely hard to get to local people who call upon us for help as quickly and as safely as possible.
"Understandably, hazardous driving conditions may lead to extended drive times meaning it might take us a little longer than normal to reach patients in the worst-hit areas."