'Snapshot' of history at Catterick Garrison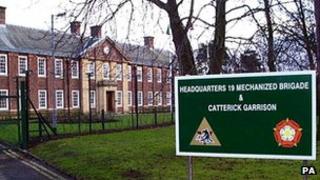 A snapshot of life at one of Western Europe's biggest army camps will be taken through a new project.
Catterick Garrison in North Yorkshire has received a grant of £26,000 from the Ministry of Defence Community Covenant to fund research and collect people's memories.
Project leader Linda Turnbull said an exhibition, website and time capsule would be collated over the next year.
The camp was founded in 1914 by Lord Baden Powell.
Ms Turnbull said: "We are keen to involve the civilian side and to see what it is like for people who have lived in the area, with the garrison in the midst."
The project, titled Garrison Voices, will aim to capture a sense of daily life in the area, by collecting photographs and interviews with people about their experiences across the decades.
A number of partners including the town's history group and local schools and veteran organisations will come together to gather information which will be ready for the camp's centenary.
Catterick Garrison was home to more than 40,000 military service personnel during World War II, when it was known as Catterick Camp.
The site, which measures 2,400 acres, with a further 20,000 acres used for training, is where all infantry soldiers in the British Army receive their basic training.
The site is currently used by about 13,000 military, civilian and dependents.