Red kite found dead on Lofthouse Moor 'was poisoned'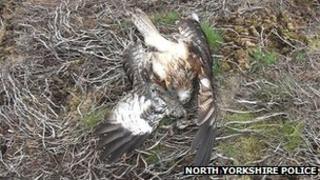 A bird of prey found dead on moors in North Yorkshire was poisoned with banned pesticides, police said.
The red kite, which apparently died after feeding on a baby rabbit, was discovered on Lofthouse Moor.
Tests established the kite was killed by pesticides and also showed it had eaten rodents which had consumed common rat and mouse poisons.
The incident was being treated "extremely seriously", North Yorkshire Police said.
'Great shame'
The red kite, an endangered species, was found in May by a fieldworker monitoring birds of prey in Nidderdale.
A subsequent post-mortem examination carried out at the Veterinary Laboratory Agency in Thirsk proved inconclusive.
Further samples were sent to the Food and Environment Agency at Sand Hutton, near York, where tests revealed the bird was killed by a combination of illegal pesticides.
PC Gareth Jones, wildlife officer for North Yorkshire Police, said the use of rat and mouse poison was a "common problem", endangering the lives of red kites and other birds of prey.
"It is the responsibility of anyone who puts down poison to control rats and mice to collect the dead rodents and dispose of them properly," he said.
"It is a great shame that another red kite has been killed in North Yorkshire, particularly as they are an endangered species and have only recently returned to the county."
Anyone with information about the incident is asked to contact police.