Scarborough surgeon Nayef El-Barghouty's suspension extended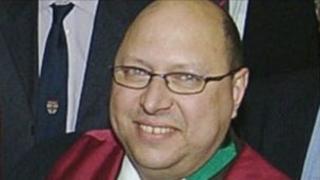 The year-long suspension of a North Yorkshire surgeon who put patients at "unwarranted risk of harm" has been extended by a further four months.
Nayef El-Barghouty was suspended from practising by the General Medical Council (GMC) in July 2011, finding him guilty of misconduct and dishonesty.
The GMC heard one of his patients bled to death after a series of botched operations at Scarborough Hospital.
A panel imposed the extension while considering if he was fit to practise.
Lied under oath
The extension of the surgeon's suspension, which was due to expire on 18 August, was "necessary for the protection of members of the public", the Medical Tribunal Practitioners Service panel concluded.
Mr El-Barghouty had worked as a vascular and general surgeon at Scarborough Hospital for 15 years.
Wilfrid Taylor, 82, from Scarborough, died in 2009 after undergoing three operations in one day to remove an aneurysm in his leg.
The operations were made necessary due to mistakes made by the surgeon.
It also emerged Mr El-Barghouty had lied under oath about the size of the aneurysm during the inquest into Mr Taylor's death.
A second patient, Joanne Roche, 42, from Bridlington, was left with damaged vocal chords after having her thyroid gland removed by Mr El-Barghouty in 2008.
He was sacked by the Scarborough and North East Yorkshire NHS Trust in August 2011.
The Medical Tribunal Practitioners Service panel is due to meet again to discuss Mr El-Barghouty's case on Wednesday 10 October.