York Leeman Road flood defence plans submitted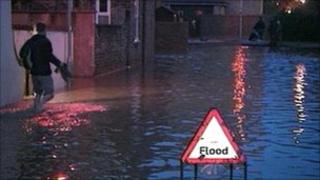 Plans have been submitted for flood defences to help protect 400 homes and businesses in York.
The £3.2m scheme for Leeman Road and Water End is funded by City of York Council and the Environment Agency.
Existing flood defences in the Leeman Road area were first built in the 1980s but were nearly overtopped in 2000.
The new scheme includes a brick flood wall, temporary removable defences, and increasing the size and height of some of the existing flood embankments.
Funding for the scheme was turned down in 2011 but was approved in February after the council stepped in with a £1m contribution.
If the planning application is approved, construction work will begin later this year.
Helen Tattersdale, the Environment Agency's project manager, said: "We have worked closely with Northern Power Grid on the plans to move a high voltage power cable in the area. We will make sure our works are carried out with the minimum of disruption to local residents."