Search for missing kayaker Jason Raper delayed by bad weather in Norway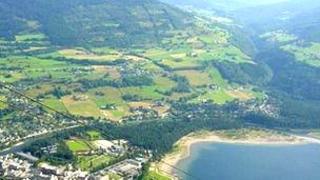 The search for a North Yorkshire kayaker who went missing in a swollen river in Norway will be delayed for at least a week because of rain, police have revealed.
Jason Raper, 19, from Scarborough, went missing in the River Raundalen in Voss on Saturday.
Ivor Hellene, of Hordaland Police, said the weather forecast looked too bad for the next seven days to begin a search.
"The river is very high and too powerful," Mr Hellene said.
"We have to wait until the river is lower so we are waiting for the weather to improve."
Mr Raper is believed to have been in Norway for an extreme sports festival at Voss in the west of the country.
He had left Scarborough on 14 June for a five-week adventure holiday in Europe.
Mr Hellene said that once the river level dropped, police would be able to trip a net across the river.
However, it was unlikely that police divers could search the river until August, he added.
Dag Sandvik, from the local kayak club in Voss, said Mr Raper was kayaking with three friends at the time he went missing.