Whitby's park and ride plan gets £3.7m grant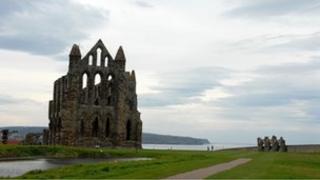 Plans for a park and ride scheme in Whitby can go ahead following a government grant of £3.7m, according to North Yorkshire County Council.
The site will be on the A171 near Cross Butts Farm just outside the North Yorkshire town and will have space for up to 450 cars.
Barrie Mason, assistant director of the council, said the scheme would mean Whitby could "continue to thrive".
A further £1.7m grant will also be used to ease congestion in Harrogate.
Mr Mason said during the summer months the town centre could be congested despite places to park.
He said the park and ride scheme was a "sustainable way forward".
Joe Plant and Jane Kenyon, county councillors for Whitby, said the news came "after a long, hard struggle".
The Department for Transport has granted the money as part of a £266m investment in local sustainable transport schemes.