Woman in Scarborough stops cherry tree being cut down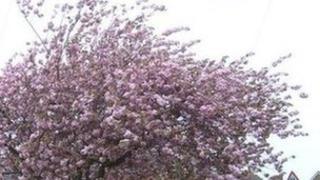 A woman has prevented contractors from cutting down a cherry tree on a roundabout in Scarborough.
Two of three trees had already been felled when Eileen Heaton stepped in to prevent workmen from removing the final one.
North Yorkshire County Council said the trees posed a safety risk due to their age and would be replaced.
Mrs Heaton said residents had wanted the trees to remain and hoped the council would change its mind.
The Conservative-run county council owns the trees and had instructed contractors for Scarborough Borough Council to remove them.
The authority said in a statement that it had held an extensive public consultation about the trees.
It said: "The trees, which were over-mature, had reached the end of their safe and useful life and are being replaced by landscaping which includes other trees, as part of the overall environmental enhancement scheme."
'Out of the blue'
Mrs Heaton said she and several local residents had protested during the consultation about the plan to remove the trees.
She said there was no need for them to be felled and had believed the consultation was continuing.
She said: "I could hear a chainsaw but by the time I got there they'd already cut one down and they cut another one down whilst I was there.
"It was very unexpected and completely out of the blue."
Mrs Heaton then wrapped herself round the remaining tree to prevent it being cut down.
The council contractors left the site after the intervention of local independent councillor Bill Chatt.
He said he understood Mrs Heaton's feelings but the correct notice of the trees' removal had been given.
He added that the council had suspended the work for the moment.