Thousands of York City fans head to Wembley for final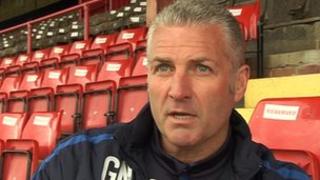 Thousands of York City fans are heading towards Wembley for Sunday's promotion final against Luton Town.
If the North Yorkshire non-league club win the game it will mean a return to the Football League for the first time in eight years.
York Manager Gary Mills said the prize for the winners of the match was "bigger than anything".
The club also played at the venue last week, winning the FA Trophy final 2-0 against Newport County.
Josh Easby, editor of York City newsletter There's Only One Arthur Bottom, has supported the team for more than 50 years and said following York meant getting "used to years of boredom and inactivity".
Currently he was "living in a permanent state of anxiety" he added.
'More nervous'
John Uttley, chairman of the Harrogate Minstermen, has organised a Wembley trip for more than 100 fans, with coaches leaving early on Sunday morning.
He said he was "more nervous" about the game than last week's FA Trophy match.
He predicted that York would win 2-1 and said the game meant "everything" to him.
"There's a status to being in the Football League", he added.
York City has sold about 7,000 tickets for the trip, according to the club's website, but will be outnumbered by an estimated 28,000 Luton fans.
The game comes just days after plans were approved for a new community stadium to be built for the club at Monks Cross on the outskirts of the city.
York City and rugby league club York City Knights will both use the planned 6,000-seat stadium.