Richmond's Georgian Theatre Royal receives £200,000 bequest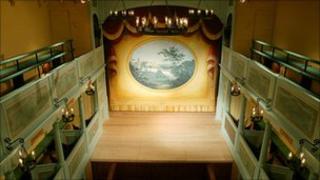 A North Yorkshire theatre has been left £200,000 in the will of a former director.
Paul Iles, who died in 2011, was Associate Director at Richmond's Georgian Theatre Royal for more than 10 years.
The theatre intends to use the money to develop its educational and heritage roles.
Built in 1788, it is the UK's most complete Georgian playhouse and a Grade I-listed building.
Kate Longmate, chief executive of the theatre, said: "Myself, the staff and volunteers of the theatre are excited about the developmental possibilities this bequest opens up for us and look forward to honouring Paul's life and his immense contribution to The Georgian in the future."
Mac Bryant, chairman of the Georgian theatre, said: "Without this immediate support, next year's budget would have been extremely difficult to piece together."
Mr Iles worked in theatre and arts management throughout his career.
He was most recently principal lecturer in arts management at the Liverpool Institute for Performing Arts, chairman of Northern Broadsides Theatre Company Limited and a director of Leeds Grand Theatre & Opera House Limited.