York Church Court records available online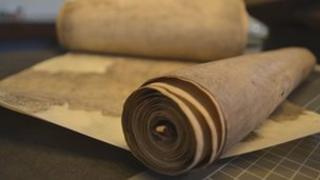 More than 14,000 church documents giving a view of life in Yorkshire over five centuries have been made available online.
The York Cause Papers record the proceedings of the ecclesiastical courts of York from 1300 to 1858.
They include details of marriage, separation and how people tried to evade church taxes.
All the original records have been digitised by teams from the Universities of York and Sheffield.
The papers give detailed accounts of arguments ranging from church taxes on liquorice, roses and pigeon dung to rows over marriage, wills and inheritance.
Tremendous importance
Professor Mark Ormrod, from the University of York's Department of History, said the project would allow the widest possible public access to the records.
He added: "The resource is of tremendous importance to specialists in social, economic, religious and legal history and in the history of gender, sexuality, marriage and domesticity, as well as to a wide range of users with interests in family and local history.
"The York Cause Papers are now set to become one of the most widely used historical resources in the United Kingdom."
Chris Webb, keeper of archives at the Borthwick Institute at the University of York, said the church courts had wide-ranging powers beyond dealing with marriage and wills.
He said: "They also dealt with cases involving personal reputation and defamation, the maintenance of the Church, the orthodoxy of its services, and the regulation of the moral and professional conduct of the clergy, schoolmasters, physicians and midwives."
Digitisation of the records was funded through a grant from the Joint Information Systems Committee (JISC), the UK's technology consortium for higher and further education.
The work was carried out by staff at the University of York and at the Humanities Research Institute at the University of Sheffield.