Stolen Easingwold Maze pygmy goats found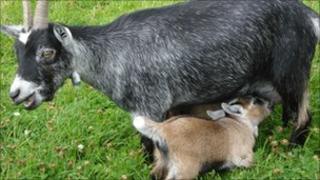 Three pygmy goats which were stolen from a North Yorkshire farm have been reunited with their mother after being found in a street in Middlesbrough.
The kids were taken from the Easingwold Maze tourist attraction between York and Thirsk on 4 September.
Owner Paul Caygill feared the three-week-old animals would not survive without being fed by their mother.
However, they were found by police on Wednesday after a tip-off from a member of the public in Middlesbrough.
Officers contacted Mr Caygill who collected Snowy, Maisy and Billy and brought them back to his farm, where they are recovering from their seven-week ordeal.
He said the young goats were undernourished and would have to be hand-reared because their mother was no longer producing milk.
"They're in a much different condition to the three that weren't stolen, but we think they'll all pull through," said Mr Caygill.
"The police picked them up in a back street in Middlesbrough next to an industrial estate.
"It sounds like they've been dumped. They've maybe had them for a while and were struggling with them so got rid of them."
He said the culprits had not yet been traced.