Archbishop of York says NHS 'must not be market-led'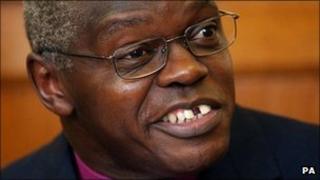 The Archbishop of York has warned of the dangers of introducing a more commercial culture into the National Health Service.
Dr John Sentamu, who had his appendix removed in May, said an NHS hospital could not be compared to a supermarket.
The archbishop said he was calling for a national debate on healthcare provision as politicians debate the Health and Social Care Bill.
The Department of Health said it "welcomed" the archbishop's comments.
Dr Sentamu was speaking after a meeting of the Archbishop of York's symposium, which brings together academics and practitioners to discuss a range of issues.
He said: "We must never allow health provision in this country to become exclusive.
"Decent healthcare should not solely be the preserve of those that can afford to purchase it."
Health inequalities
"Whilst we may strive to deliver value for money, we cannot allow care to be market-led or commercialised to the point where patient safety is put at risk."
Dr Sentamu said he was also concerned about social inequalities in healthcare provision and that problems could not be solved by "simply throwing money" at the system.
Calling for a national debate on the future of the NHS, the archbishop said: "We all want to see investment spent appropriately to provide the best care possible to as many people as possible.
"We all want to see a system that is compassionate and responsive. The challenge is how do we achieve that?"
A Department of Health spokesman said: "Our bill puts clear safeguards in place against any abuse from the private sector and ensures that all provision of services to NHS patients will be based on the quality of the service to patients, not the cost."