Kellingley pit service marks miner's death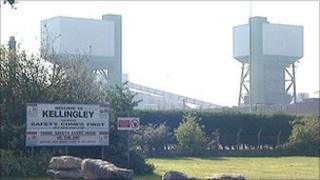 A service has been held to mark the anniversary of a miner's death at Kellingley Colliery, North Yorkshire.
The mine's chaplain officiated at the ceremony in memory of Don Cook, who died in a rock fall in September 2008.
A two-minute silence was also held for 49-year-old miner Gerry Gibson who died in an accident at the pit on Tuesday.
Meanwhile, pit owner UK Coal appeared in court in connection with another man's death at Kellingley in 2009. The case was adjourned until 24 October.
The company appeared at Pontefract Magistrates' Court on Friday, charged with health and safety breaches after the death of miner Ian Cameron in October 2009 at the same pit.
'Very moving'
Worcester-based mining equipment firm, Joy Mining Machinery Ltd, was also in court to face similar charges.
National Union of Mineworkers General Secretary Chris Kitchen said Friday's memorial service, which was held on the colliery site, had been "very moving".
"It brought it home to everybody, the events of this week," he said.
"It was to celebrate the good things. You've worked with these men and there are many happy memories."
About 150 people attended the service, including members of Mr Cook's family and former colleagues.
Flowers and wreaths were laid in his memory.
The inquest into Mr Gibson's death will be opened and adjourned on Monday at Selby Magistrates' Court.