Winter weekday closure for Yorkshire historical sites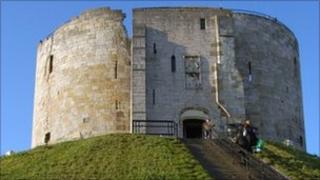 English Heritage will close a number of historical sites across North Yorkshire during winter weekdays.
Locations such as Clifford's Tower in York, Scarborough Castle and Whitby Abbey will open only at weekends from November until April.
The organisation said the plans were in response to a 32% cut in its government grant.
Local tourist body, Visit York, said it understood the reason but was "disappointed" at the decision.
Michael Constantine, assistant visitor operations director at English Heritage, said: "You don't have a budget cut of 32% and not have to make some difficult decisions."
Mr Constantine said that the change was made after researching visitor patterns to English Heritage sites. The organisation found that most visits in winter were concentrated at the weekend.
"With places in the winter where we have gone from five or seven-day openings to weekend, what we see is that 40% of those visitors from the week actually transfer to visiting at weekends, he said.
"That is one of the assumptions we have made across what we expect to see."
In response to the winter closure scheme Gillian Cruddas, chief executive of Visit York, said: 'We were disappointed by the decision to close Clifford's Tower on weekdays, though at the same time we totally understand the funding challenges that organisations like English Heritage are currently facing."
Clifford's Tower will still be open to school groups Monday to Friday throughout the winter.
Some English Heritage staff employed at the attractions will face reduced work hours or will take voluntary redundancy.