Scarborough surgeon sacked after misconduct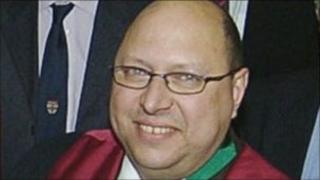 A surgeon who put patients at "risk of harm" has been sacked by Scarborough hospital.
Nayef El-Barghouty was suspended for a year by the General Medical Council (GMC) last month after it ruled he had brought the profession into disrepute.
The hearing was told one of his patients bled to death after undergoing a series of botched operations.
The Scarborough and North East Yorkshire NHS Trust said it had no choice but to terminate his employment.
The GMC found Mr El-Barghouty guilty of misconduct and dishonesty in July.
Mr El-Barghouty had worked as a vascular and general surgeon at Scarborough hospital for 15 years.
Wilfrid Taylor, 82, from Scarborough, died in 2009 after undergoing three operations in one day to remove an aneurysm in his leg.
The operations were made necessary due to mistakes made by the surgeon.
It also emerged Mr El-Barghouty had lied under oath about the size of the aneurysm during the inquest into Mr Taylor's death.
A second patient, Joanne Roche, 42, from Bridlington, was left with damaged vocal chords after having her thyroid gland removed by Mr El-Barghouty in 2008.
Mike Proctor, chief executive of Scarborough and North East Yorkshire Healthcare NHS Trust, said: "The GMC's suspension of Mr El-Barghouty from the medical register prevents him from practising as a doctor.
"He is therefore no longer able to fulfil his contractual obligations to work as a surgeon, and this has led to the trust terminating his employment with immediate effect."