North Yorkshire health services need 'radical' change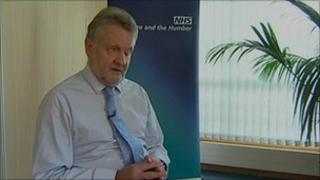 More than 200 hospital beds in North Yorkshire could close as a new report calls for radical change in health services across the county.
The review of North Yorkshire and York NHS Trust says immediate action is needed because it is spending beyond its means.
Savings of £230m need to be made by 2015.
Trust chief executive Jayne Brown said she welcomed the report and was hopeful it would lead to "necessary changes".
The review was commissioned by the Strategic Health Authority (SHA), on behalf of local GPs, to make recommendations for a "sustainable financial future".
Professor Hugo Mascie-Taylor, author of the review, said to meet the financial challenge, "the North Yorkshire and York health economy requires a radical solution and a shift in how healthcare is provided".
The report states that the trust has continued to carry an historic debt of £18m and such a position was unsustainable.
According to the review, the financial challenge is made worse by the fact that the county has an ageing population which will increase pressure on health services over the years.
As a result, 44 recommendations have been made in areas such essential medical care, community services and buildings.
These include reducing hospital beds and treating more patients in the community.
Mr Mascie-Taylor said because of the scale of the changes needed, the NHS and partner agencies should "take action immediately".
He said: "Anything less will jeopardise people's future health services and these must be preserved for the benefit of the whole community."