York big wheel scheme abandoned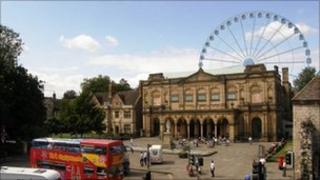 The latest scheme to erect a 60m (200 ft) high wheel in York has been abandoned.
The York Museums Trust and Great City Attractions planned to erect the wheel on derelict land behind the city art gallery.
The trust said delays caused by a bat survey and complaints from nearby residents meant it would no longer be profitable enough.
The site will now be converted into a landscaped garden and arts space.
The trust withdrew an initial planning application for the wheel in February 2011 after it became apparent that a full bat survey of the site would be needed.
The survey revealed the development could go ahead but the delay has reduced the amount of time the wheel would be able to operate for.
This means a reduction in the amount of revenue the scheme would generate.
Michael Woodward, commercial director for York Museums Trust, said: "The delay in installing the wheel has shortened the time it would have been in place by nearly half. This dramatically reduces the economic value it would bring to the trust and the city."
Complaints by nearby residents about the impact of the scheme were also considered by the trust. Mr Woodward said: "We have taken these into account in deciding not to apply for permission to install the wheel."
Great City Attractions Global Ltd said it was disappointed the trust had been unable to continue with the project.
A wheel at the National Railway Museum attracted 1.2 m visitors between 2006 and 2008 and the company said it remained committed to finding a viable new location in the city.