Flying Scotsman's return delayed by cracks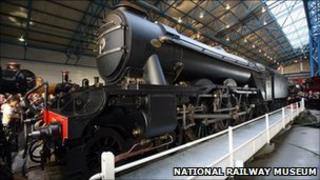 The return of the restored Flying Scotsman to the National Railway Museum (NRM) in York has been delayed after cracks were found in its chassis.
The locomotive was due to undergo steam tests and trial runs later this month before going on display in August.
Flying Scotsman is now expected to be tested in the autumn and go on display later this year, the NRM said.
"Restoration has been delayed due to cracks found in the chassis in late June," an NRM spokesman said.
Flying Scotsman was bought for the nation in 2004 and is undergoing major restoration work in Bury, Greater Manchester.
'Very disappointing'
The NRM said that after a thorough examination to identify the extent of the problem, it was established that the locomotive required essential remedial work, which would be carried out in the next two weeks.
Once the work is completed, Flying Scotsman "will be able to run for decades to come", the NRM said.
Steve Davies, director of the NRM, said: "It is very disappointing to announce that Flying Scotsman will be delayed and unable to go on display at the museum this August as planned.
"However, it is important for our visitors to understand that the reason for the delay is because our workshop team are doing everything they can to ensure the remedial work taking place matches up to the meticulous approach that has been taken on the restoration project from the very beginning."
The museum said it could not yet confirm when Flying Scotsman was expected to operate passenger journeys.