Sculptural first for Great Yorkshire Show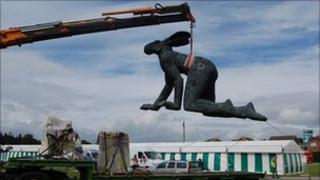 Two giant sculptures have been installed at the Yorkshire showground in Harrogate.
The art works are being displayed in Harrogate during the Great Yorkshire Show, which begins on 12 July.
Crawling and Heros de Lumiere are owned by the Yorkshire Sculpture Park based at West Bretton near Wakefield.
It is believed this will be the first time that sculptures have been displayed at the annual agricultural show.
The two 3.6m (11 ft) high works of art, which have a combined weight of 14 tonnes, will be on the President's Lawn throughout the show.
Bill Cowling, honorary show director, said: "We are absolutely delighted to showcase such impressive pieces of art. The setting is just perfect for them and I am sure they will cause a great deal of interest."
British sculptor Sophie Ryder's bronze, Crawling, is a figure with the head of a hare and a human body.
The piece has been displayed at the sculpture park for the past three years.
Polish sculptor Igor Mitoraj's Heros de Lumiere, or Hero of Light, was created in 1986 and has not been on display for several years.
The Great Yorkshire Show runs from 12 to 14 July.