East Heslerton wind farm opposition 'growing'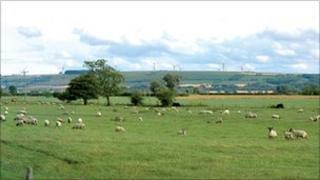 A plan for a wind farm on the Yorkshire Wolds is attracting growing opposition, according to campaigners.
RWE Npower renewables wants to build 10 413ft (126m) high turbines at East Heslerton near Malton, generating power for up to 10,000 homes.
Campaigners opposed to the plans say they have now persuaded 24 local parish councils to lodge objections to the scheme.
The company says there is a "high level" of local support for the plans.
'Fantastic site'
Paul Stephens, from Heslerton Wind Farm Action Group (HWFAG), said the turbines would destroy the natural surroundings.
"To start sticking great carbuncles on this beautiful landscape would be sacrilege," he said.
Fellow campaigner Richard Cundall said they were pleased so many local parish councils had objected.
"We will keep fighting this and I hope more and more people will write in and complain to the council," he said.
Martin Wood, RWE Npower renewables developer, said: "With all our sites we make extensive efforts to establish whether they are an appropriate location for a wind farm.
"This is a fantastic site with a great wind resource."
He also said the site was designed to have the minimum impact on the landscape but the company was listening to objections.
Planning application
Other formal objections have been lodged by English Heritage, Natural England and the Council for the Protection of Rural England (CPRE)
The Ministry of Defence said it had concerns the turbines could interfere with air traffic control radar at RAF Linton-on-Ouse.
The power company insists it has a great deal of support for the scheme.
Mr Wood said: "During our public consultations we've identified a high level of support which is really encouraging. A number of positive comments have been sent to the planning authority."
A planning application was submitted to Ryedale District Council in March but the authority has not said when it will consider it.