WW1 first VC Lt Maurice Dease's nephew plans battle site pilgrimage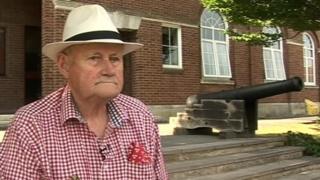 The nephew of the soldier who won the first Victoria Cross of World War One is to mark the centenary by visiting the place his uncle was killed.
Lt Maurice Dease died, aged 24, on 23 August 1914 in the first battle fought by the British army against the Germans on the Western Front at Mons.
Maurice French, 84, of Heytesbury in Wiltshire, is also raising money for the charity Help for Heroes.
The retired Army major said his family was "incredibly proud" of the honour.
Badly wounded
Lt Dease was the machine gun platoon commander of the 4th battalion, the Royal Fusiliers.
Maj French, who retired from the Royal Fusiliers in 1984, said: "Early on my uncle was hit in the knee but he went forward to one of his machine guns because he saw that it had stopped and he discovered the fusilier there had been killed so he got another man to take over and went back to his command trench.
"He saw the second gun had stopped as well so he crawled across the open ground and was hit a second time.
"The left hand machine gun was in trouble again and he took the man who was dying to one side and started firing the machine gun himself and was hit a third time and probably died at about 11 that morning."
The War Office cited the reasons for awarding him the VC on 16 November 1914 as: "Though two or three times badly wounded he continued to control the fire of his machine guns at Mons on August 23 until all his men were shot. He died of his wounds."
Maj French said after his family received the VC through the post a friend suggested making the delivery of the honour more personal.
"The family had a friend in the palace and it was suggested that instead of the VC's going through the post that he next of kin should come to the palace and receive the VC from the monarch and of course that's what's been done ever since," said Maj French.
The battle saw 1,638 casualties on the British side and about 5,000 Germans.