'Rolls Royce' organ in Tisbury church restored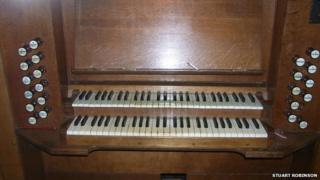 A 19th Century organ, described as the "Rolls Royce of organs", in a Wiltshire church has been fully restored.
The instrument at St John the Baptist in Tisbury has been stripped down, cleaned, and reassembled after becoming unreliable and clogged with dirt.
It was originally installed in 1887 by the famous great Victorian organ builder, "Father" Henry Willis.
A local parishioner paid for most of the restoration on the instrument to be carried out.
David Wintle, from Mander Organs who restored it, said: "It's the Rolls-Royce of organ building. It is in excellent condition after over 100 years.
"Over the last six or seven years it's been getting steadily dirtier."
He added: "The pipework is now a lot brighter tonally that it was before.
"We've moved about three large bin bags full of dust out of the organ. It surprised me how dirty it was."
Churchwarden Anthony Lovell-Wood said: "It's a delight to have this done.
"I think some of the congregation may now say it's louder than ever."