Swindon woman who stripped ex's flat bare sentenced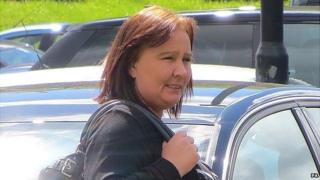 A woman who stripped her ex-boyfriend's flat bare - even taking his carpets - has been spared a jail sentence.
Corinna Finney, of Redhouse, Swindon, "snapped" when she discovered Brian Waite had been using dating websites, Swindon Magistrates' Court heard.
The 39-year-old mother of two arranged for a firm to empty Mr Waite's home while he was out for the day.
Magistrates said the offence could have resulted in a prison sentence but gave her a 15-month community order instead.
The court heard Mr Waite and Ms Finney, who had known each other for 10 years, had been in a relationship for 18 months before it broke down.
Shortly after the break-up, on 14 March, Mr Waite left his flat in Moredon, Swindon, to spend the day at the Cheltenham Festival.
'Last straw'
When he returned he was horrified to discover his flat "stripped bare" - with his clothing, food, appliances, cutlery, television and even the carpets removed.
Prosecuting, Michelle Hewitt, told the court: "He suspected the defendant and the police went to her address the next day but none of the property was recovered.
"Fortunately, a lot of it was later recovered but some items, including his clothing, carpets and food, were never recovered."
Mitigating for Ms Finney, who admitted theft, Gordon Hotson said the discovery that Mr Waite had been using dating websites, when they had been trying to resolve their relationship issues, had "caused her to snap".
"She wanted to do something that would affect him as she had been affected very badly by the discovery of his alleged infidelity," he said.
"It was the last straw and she acted without properly thinking through the consequence of her actions."