Wiltshire dragonfly numbers 'may fall after floods'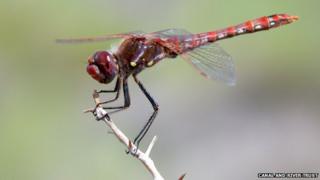 Dragonfly population numbers in Wiltshire may have dropped as a result of flooding, according to ecologists.
Peter Birch, from the Canal and River Trust, said the "wettest winter on record" could have "a lasting impact".
He said he was "particularly concerned about the impact on invertebrates" with a possible "drop in the number of dragonflies emerging this spring".
The trust is asking people to record any sightings of the insects as part of their Great Nature Watch project.
'Increase in midges'
Trust ecologist Laura Plenty, who monitors wildlife along the Kennet and Avon canal, said dragonflies are an "important link" in the food chain.
"They feed on midge larvae underwater and adult midges when they've transformed into adult dragonflies - so this could result in an increase in midges," she said.
The problem is that fast-flowing flood water could have washed away the dragonflies' natural habitats or exposed the creatures to predators, she said.
One species, the scarce chaser, which can been seen in the Caen Hill Lock area by the canal is "quite rare", so its population is already fragile, she said.
Dragonflies are an ancient species, whose ancestors were around before the dinosaurs.
Some species of dragonfly spend the first three years of their lives underwater before emerging for a few months to mate and lay their eggs before dying.