Funding awarded to restore King Alfred's Tower at Stourhead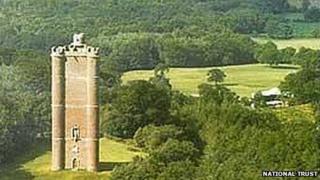 Nearly £100,000 has been awarded to the National Trust to restore a Grade I-listed building on the Wiltshire/Somerset border.
The money will be spent on repairs to the 18th Century King Alfred's Tower on the Stourhead estate.
The work is part of a £640,000 project to restore many of the features and structures in the grounds of Stourhead.
The National Trust said the award followed an "outpouring" of public support for the building on Facebook.
Spokeswoman Helen Sharp said: "We are very grateful that Viridor Credits have recognised the importance of the tower to so many people and have given us this award.
"We also want to say a huge thank you to everyone who has supported the campaign to repair the tower."
The Trust said the roof and stonework around the top of the tower needed urgent conservation work and repairs to ensure the future of the building and access for visitors.
The majority of the Stourhead Estate sits in Wiltshire but King Alfred's Tower lies in the county of Somerset.
Viridor Credits is an environmental not-for-profit organisation which distributes money earned by a tax credits scheme for companies operating landfill sites.