Land sought for air ambulance base in Wiltshire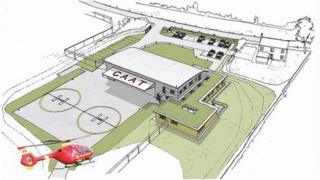 A "full-scale search" for a new helicopter base in Wiltshire has been launched by an air ambulance charity.
Wiltshire Air Ambulance was sharing a hangar with Wiltshire Police but the force will join the National Police Air Service near Bristol next year.
A dozen airfields and landing strips within eight miles (12 kms) of Devizes have been identified by the service.
David Philpott, from the charity, said bases can be on farmland or industrial estates "so we are ruling nothing out".
For the past 20 years, a single helicopter has been shared by the charitable trust and Wiltshire Police.
Appeal for land
But, with the reorganisation of the National Police Air Service, the trust has had to lease a new Bell 429 helicopter, which is due to come into service by 1 December and find a new base.
"We are still in discussions with the police and crime commissioner to see if we can get an extension on our tenure, but this is looking increasingly unlikely," said Mr Philpott.
"Other air ambulance charities have located their bases on industrial estates or farmland. So, subject to the appropriate planning permissions, we are ruling nothing out at this stage."
Anyone with suitable property or land in central Wiltshire is being asked to contact the charity.