All Cannings 'Neolithic' barrow work begins with ceremony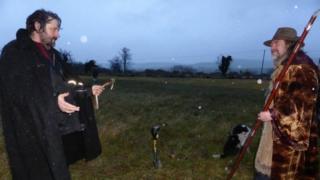 A ceremony involving turf cutting with an antler and mead being drunk from a horn has been held to mark the start of work on a new "Neolithic" burial mound.
Developer Tim Daw said the ritual was an "appropriate" way to begin the building of the long barrow at All Cannings near Devizes, Wiltshire.
The structure, which will contain niches housing urns of cremated ashes, is due to be completed next summer.
Mr Daw said he wanted to begin "as our Neolithic forefathers would have done".
People who have already bought niches joined developers for the ceremony on Saturday.
The barrow will be aligned so that the sunrise of the winter solstice shines through the entrance and down the length of the passageway.
'Unique resting place'
Mr Daw said that "whilst not druids, we thought it appropriate to mark it in a traditional manner".
He said the ceremony had included "a call for blessings, some mead in a drinking horn and a ceremonial first cut of the turf with an antler pick, as our Neolithic forefathers would have done".
He added that he felt "really honoured and a little nervous in now being entrusted to deliver such a unique resting place".
"I know if we get it right, it will be stunning and complement this magnificent landscape, and provide a great deal of solace to a lot of people."
The interior of the barrow has been designed by a local stonemason and will feature dry stone walls made of Cotswold stone, and a corbelled roof.
The barrow will be split into seven chambers, which will contain a total of about 300 niches.
Each niche will have room for between six and eight urns and will be sealed with a lockable door.
The structure will be made partly from local sarsen stones, similar to those used in the nearby stone circles at Stonehenge and Avebury.
The ancient tradition of burying the remains of the dead within earth mounds dates to the early Neolithic period.
A number of ancient burial mounds exist near the new site, including West Kennet Long Barrow, which is one of the best preserved in the country.
Planning permission for the mound was granted by Wiltshire Council in October.