Stonehenge bone display prompts protest by 'King Arthur'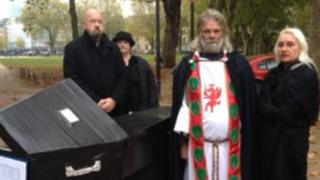 Druid King Arthur Pendragon has led a protest against plans by English Heritage to display human remains from Stonehenge at a new visitor centre.
Earlier this year Mr Pendragon lost his second legal bid to get the cremated remains reburied at the ancient site.
He claims the bones discovered in 2008 are the remains of members of the royal line and wants them re-interred.
The protest in Queens Square in Bristol involved setting up a wake complete with coffin and mourners.
'About decency'
The remains of more than 40 bodies, thought to be at least 5,000 years old, were removed from the burial site at the ancient stone circle in Wiltshire in 2008.
"English Heritage say people expect to see remains when they come to the visitors' centre, but we say they're out of touch and hope this protest will show that," said Mr Pendragon.
He describes himself as the Battle Chieftain of the Council of British Druid Orders and Titular Head and Chosen Chief of the Loyal Arthurian Warband Druid order.
"This is not just a pagan issue - it's about decency and respect.
"The people buried in the ring around the stones were put there for a reason, as guardians. Without them the religious element is taken away from the site and all you have left is rocks," he said.
He said replicas could easily be used in the new visitor centre allowing "those we lay to rest to stay at rest".
'Authenticity is important'
English Heritage said the three sets of human remains on display had been in the care of scholarly institutions for at least 10 years and did not include any freshly excavated material.
A spokeswoman said two were excavated more than 50 years ago and the third was uncovered during road improvement works in 2001.
The organisation's commissioners have endorsed the proposal to display the remains of three human burials as part of the permanent display at the new Stonehenge visitor centre.
The spokeswoman said the organisation felt it "has a public duty to communicate all the key narratives and archaeological findings to the public".
"Our curatorial position on this is that authenticity is important when we tell England's story through the properties we look after.
"We only use replicas when the real object is not available."
Mr Pendragon said he planned to protest again on 18 December when the new visitor centre is due to open.