Tidworth deaths: Review criticises agencies' communication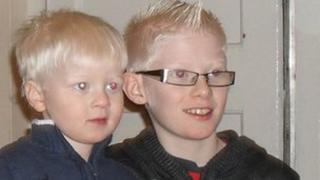 A serious case review into the deaths of two boys who were killed by their father in Wiltshire has criticised communication between agencies involved with the family.
Graham Anderson, 36, unlawfully killed his sons Jack, 11, and three-year-old Bryn in Tidworth in September 2012.
Mr Anderson committed suicide by hanging.
The review said more information could have been shared but the deaths could not have been predicted.
The three main authorities involved with the family were Hampshire County Council social services, Wiltshire Police and Wiltshire Probation.
Maggie Blythe of the Hampshire Safeguarding Board, which conducted the review, said: "There is evidence that there could have been more effective sharing of information between professionals working with the children and the wider family and with both the father and the mother."
Drug and alcohol problems
An inquest into the deaths heard the coroner state that agencies could not have known the children were at risk of death.
Anderson, a former lorry driver, was heavily in debt and was known to have drug and alcohol problems.
He was also facing a custody battle with the mother of the boys, Victoria Jones, who lived in Andover, Hampshire.
A Home Office forensic pathologist told the hearing it was likely the two young boys were "suffocated or smothered".
The authorities concerned say they have reviewed their procedures in light of the case and are currently collaborating to improve working practices with partner agencies.