New Tidworth Garrison Theatre opens after redevelopment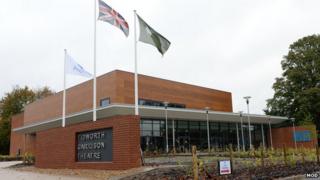 A new Garrison Theatre has been formally opened in Tidworth, replacing one which had previously been on the site for more than 100 years.
The 700-seater venue will be used by the general public as well as the Army.
The Pickernell Auditorium has been named in honour of the Pickernell family. They opened the old one in 1909 and ran it for three generations.
Garrison commander Col James Denny said operationally the new facility would make a real difference.
"We've had problems briefing large numbers of soldiers," he added.
"The great thing about this facility is we can get a whole battle group, which is about 700 people, into the theatre and they can be briefed centrally."
Col Denny admitted car parking "could be difficult".
"I can see that I'm going to get a few complaints and I apologise in advance from people who suddenly find they've got cars parked around their houses," he added.
"We're looking at that, but in the short-term it may cause some issues."
The Old Garrison Theatre was designed to entertain troops stationed at the barracks and played host to a number of actors and entertainers.
During World War Two, commanders such as Montgomery, Alexander and Eisenhower used the theatre to address the vast numbers of troops passing through the Salisbury Plain garrisons.
The theatre hosted such stars as James Cagney, Bob Hope and Alistair Sim.
Following the war, the theatre saw other famous entertainers such as Frankie Howerd, Norman Wisdom and Eric Sykes tread its boards.
Tony Pickernell, whose grandfather Herbert opened the theatre and was himself a former manager, previously told the BBC it was once the only original, purpose-built garrison theatre.
"If you go back to 1909, when you came out of the cities it was the bees-knees of theatres out in the suburbs," he said.
"That's why it had so many famous acts and personalities appear there."
The new theatre is the latest major project to be completed as part of the redevelopment of Tidworth and Bulford garrisons.
The Army Welfare Service will also be based at the site and will relocate from Bulford in December.
It will be managed on behalf of the Ministry of Defence by Aspire Defence.