Pigeon shooting at Wiltshire shopping centre 'reckless'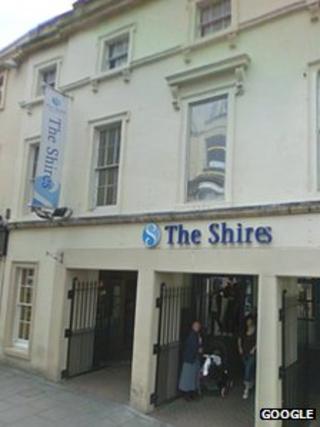 The shooting of pigeons at a shopping centre has been condemned as "reckless" by an animal rights charity.
Managers at The Shires in Trowbridge, Wiltshire, brought in pest controllers to shoot the birds to control numbers.
Centre manager Sarah-Louise Moore said it was "regrettable" but the birds were "posing a health and safety risk".
A spokesman for PETA said: "Humane, non-lethal methods of deterring wildlife are always more effective than resorting to violence."
It is not currently illegal to shoot pigeons if all other methods of control have been exhausted and there is a health risk, or if a licence has been granted.
But the PETA spokesman said: "How incredibly reckless and irresponsible to suggest shooting pigeons to control their numbers.
"After the birds have been blown out of the sky, more will simply move in to fill the void, creating a perpetual killing cycle."
'Emaciated'
Adam Rogers, from the Feral Pigeon Project, said he discovered pigeons were being shot at The Shires after rescuing one of the birds from the river with a wounded wing.
"They [pest controllers] state their methods are humane but this particular bird had suffered a great deal, being both emaciated and in pain from its injury," he said.
But Ms Moore said there were a "vast number of pigeons" in the town and they had already tried "netting, spiking and actively deterring people from putting down food".
"We get a pigeon inside the building once a month and with their faeces dropping down it's a problem," she said.
Mr Moore said she had received complaints including one from a mother whose child had slipped in mess in the car park.
According to Natural England, all wild birds are protected under the Wildlife and Countryside Act 1981 and cannot be killed.
But, it states, pigeons are "recognised as causing persistent problems" and in certain situations a licence can be issued.