Swindon MP calls for investigation into 'green pill'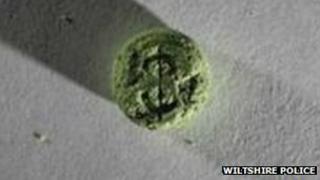 An MP has called for the Home Office to look at banning a legal high that may have caused the death of a 23-year-old.
The man, from Swindon, died in the Great Western Hospital after he was admitted on Monday evening after his temperature soared.
It is thought he may have taken a "green pill with a dollar sign on it", which tests found was the legal high, alpha-methyltriptamine, known as AMT.
Swindon South Conservative MP Robert Buckland said it was a "tragic case".
"It is clear to me that this is going to have to form a body of evidence to go to the Home Office to make the case for this type of drug to be banned urgently," he said.
Wiltshire Police said they would not know the exact cause of death until a post mortem examination took place.
Meanwhile officers are investigating the availability and use of the legal high in Swindon.
'Swift action'
Former legal highs Black Mamba and Mexxy (methoxetamine) have been re-classified as class B drugs - the same as cannabis.
"We have changed the law very recently to make it easier to ban these types of drugs," Mr Buckland said.
"Only a couple years ago we had a problem with a drug called methoxetamine in Swindon and with the work of the police here and in other areas, the Home Office actually banned the drug in 28 days.
"It's called a temporary drugs banning order, and that can lead on to the Advisory Council on the Misuse of Drugs, who have responsibility for deciding if a drug should be banned or not.
"What happened in that case was that the drug was banned permanently."
He said that while Swindon has had a problem with legal highs in the past, it would be wrong to say the town was a "hot bed" of continual drug misuse.
"This tragic case has once again highlighted the need for us all to be vigilant, for us to support the police and for the government to take swift action using new laws this government passed," he added.
'End up dead'
Police are advising people to steer clear of legal highs and anyone who has taken the drug in the last few days has been urged to seek immediate medical attention.
Det Insp Lisa Clarke, who is leading the investigation, said: "The thing with legal highs is that there is a vast amount out there and they are being looked at and developed all the time.
"In terms of this particular brand being legal at the moment, things change, and it may not be legal in the near future.
"Just because a drug is not illegal, it really does not mean it is safe and actually you could end up dead."