Soldier is third in World Wife Carrying Championships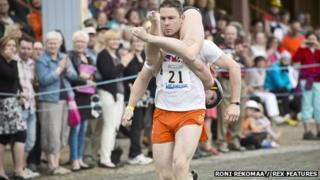 A soldier from Wiltshire has come third in the World Wife Carrying Championships in Finland after his appeal for a "small wife".
Matt Witko, from 3rd (UK) Division, represented Great Britain at the weekend after taking the UK title with a wife "borrowed" from a good friend.
After she was forced to drop out, he said he was inundated with offers from women willing to be carried.
Taisto Miettinen and Kristiina Haapanen from Finland took gold in the race.
Speaking of his achievement, Captain Witko said: "I managed to come third, which was remarkable really - I was behind two former world champions.
"The guy who won it has now won it five years in a row and the guy who came second is the only guy to have beaten him six years ago - so it was a fantastic result really, it was much better than expected."
'Ridiculously hard'
For the championships, wives are carried over a purpose-built 831ft (253.5m) sand course with obstacles including a metre deep pool of water.
The event rules state she "may be your own, the neighbours or you may have found her farther ahead".
Captain Witko needed a woman who was around 1.6m tall (5ft 4in) and who weighed between 7st 7lbs and 8st 5lbs (49 to 54 kg).
His new partner was aerobics instructor Hattie Archer.
She said: "The water obstacles were ridiculously hard - there was a big pond and it was lined with plastic so it was quite slippy.
"The best way to get in and out was to jump in and then run out as fast as you can but it meant my head was under the water for quite a while so if there was a slippage it meant the longer I was there so I had to have quite a bit of trust in Matt that he would get out fast."
Despite the physical demands, Ms Archer has said she would be willing to be carried again.
Captain Witko has confirmed he intends to defend the UK title next year.