Missing Tom Edwards caught on Swindon CCTV boarding train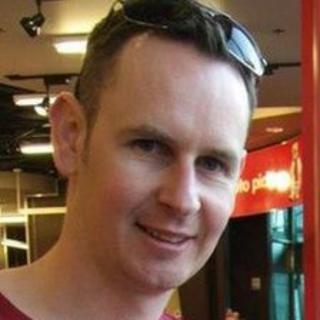 A man who has been missing for nearly five days after he was taken to a bus stop by police caught a train home instead, police have confirmed.
Swindon railway station CCTV footage showed Tom Edwards boarding a train at 23.21 BST heading for Chippenham.
Mr Edwards, 32, from Calne, left Rudis bar between 21:45 and 22:15 BST on Friday and was given a lift to the stop by two police officers.
The last known phone signal from his mobile was within the Chippenham area.
Mr Edwards failed to make it home, which his wife Dee said was "really unlike him".
Police said two officers saw Mr Edwards at about 22:30 BST walking along Cambria Bridge Road in Swindon.
Distinctive tattoos
The officers noted Mr Edwards was intoxicated, and after speaking to him they gave him a lift to the bus stop outside the Swindon Designer Outlet Village.
They then saw him again 10 minutes later in the same place waiting for the bus. Police now believe he later made his way to Swindon railway station.
Insp Phil Staynings said: "Officers have thoroughly reviewed hours of CCTV footage and we now believe that Mr Edwards boarded a train bound for Chippenham.
"All indications up until this point indicated that Mr Edwards may have boarded a bus back to Chippenham as officers had taken him to a bus stop and we had CCTV of him waiting at this bus stop.
"This remains a missing persons enquiry but we have increased our resources in this investigation."
Insp Staynings said he was unable to confirm that Mr Edwards got off the train at Chippenham.
About 50 officers are continuing to search in the Chippenham and Derry Hill areas and will be joined by specialist dog teams later. The police helicopter is also being used.
Mr Edwards is described as white, of thin build with short brown hair. He also has distinctive Ironman tattoos on his right leg and left arm which depict a red and white Austrian flag.