Swindon Locarno redevelopment brief approved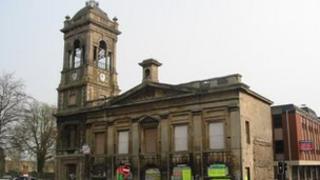 A draft plan for the redevelopment of the historic Locarno building and surrounding area in Swindon's Old Town has been approved by planners.
The document includes proposals for a new hotel, restaurants and a mix of offices and homes.
The brief, by Swindon Corn Exchange Ltd, will be used as the basis for a future planning application for the Grade II listed site.
The building was left derelict after two extensive fires in 2003 and 2004.
The proposals will now go out to an eight-week public consultation after Swindon Borough Council's planning committee approved outline plans.
Councillor Garry Perkins from Swindon Borough Council said: "It looks as though we are now getting to a stage that the Locarno will be rebuilt in the relatively near future.
"We would hope that final plans will come to the planning committee at the end of the year and hopefully building will start by this time next year."
Previous proposals put forward by the director of the development company then called Bach Homes (Locarno) Ltd, Steve Rosier, were rejected and subsequent planning appeals were ditched "to find a better solution".
A working group was then set up involving the developer, council officers, Forward Swindon Ltd - the company established by Swindon Borough Council to deliver economic growth and property development in the town - and English Heritage.
Among the proposals the group came up with were the use of the Buttermarket as a covered courtyard open to the public, putting a glass roof on the Corn Exchange, and allowing people access to the Corn Exchange Tower.
Another key part of the brief would see the Market Square pedestrianised.