Malmesbury homes judicial review to go ahead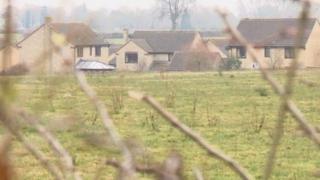 Developers who were granted planning permission for new homes in Malmesbury, which was later reversed, are to have their case heard in court.
Gleeson Strategic Land was told in March that a planning inspector had decided it could build the 180 homes.
But hours later the Planning Inspectorate said the decision was issued due to an administrative error.
Gleeson argue there is no precedent for the inspectorate to withdraw permission once granted.
The judicial review is due to be heard in the Administrative Court in Bristol in October.
Plans for the homes on the northern edge of the town were originally turned down by Wiltshire Council in March 2012.
The case then went to a planning appeal and a public inquiry.
Planning inspectors gave the go-ahead for the homes after the inquiry but this decision was reversed so the matter could be determined by the secretary of state.
Speaking after the decision was reversed Gleeson said it believed that there was no precedent for the inspectorate to withdraw planning permission and the Secretary of State has no power to recover jurisdiction of the appeal from an inspector once the inspector's decision had been issued.
"The clear legal advice we have received is that this permission is still valid," a company spokesman added.