James Ward murder trial: Accused has 'no memory' of shooting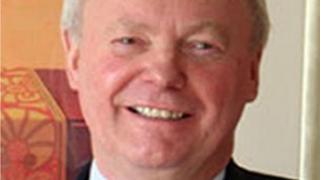 A man accused of murdering a solicitor by shooting him in the head has said he has no memory of the incident.
When asked if he had intended to kill James Ward, Michael Chudley, 63, told Salisbury Crown Court: "I have no idea, I was very ill at the time."
Mr Ward was shot last July at his office in Devizes, Wiltshire, and died almost three weeks later.
Mr Chudley, of no fixed address, denies murder but has admitted manslaughter on grounds of diminished responsibility.
During questioning by his defence, Mr Chudley said: "I'm ashamed of what I did but I have no recollection of what I did."
'That's not murder'
The jury was told both the defence and prosecution agree Mr Chudley was suffering from a paranoid personality disorder at the time of the shooting.
The defence will argue this means it affected his self-control so the charge of manslaughter on the grounds of diminished responsibility should apply, while the prosecution will say he knew what he was doing and the crime was one of murder, the court heard.
Mr Chudley told the court: "I didn't plan to kill Jim Ward. If I'd wanted to kill him I would have shot him in his home and taken his body in a car and driven off and set fire to the car - that's murder.
"Someone who goes in [to an office] in front of witnesses, that's somebody who's mentally ill. That's not murder."
The defendant was asked by the prosecution if he had made several threats to people, which he denied.
'I am a lion'
He was asked if had bullied and abused his ex-girlfriend and business partner, Francine Whale.
"I've slapped her when she needs it to get her to bed after a few bottles of wine, which is quite often," he said.
The prosecution suggested Mr Chudley was a coward, to which he replied: "No, I am a lion."
Mr Chudley, formerly of Kingfisher House in Rowde, near Devizes, has also been charged with possession of a firearm with intent to provoke fear of violence and making a threat to kill, which he also denies.
The court heard when he was arrested he told police he had snapped and lost it, and had been drinking whisky on the morning of the shooting.
He had hoped to go back to his former home in Rowde and kill himself in the master bedroom but the home had been repossessed because of a legal case and he was unable to get in, the jury heard.
Mr Chudley said he had bought the shotgun illegally some time earlier because he was afraid that a former partner's boyfriend was after him.
He told the court he had hidden it in a metal box in a wall of his home and that after he was allegedly robbed at the house he had sawn the barrels off.
Solicitor Mr Ward, who was 58 and from Westbury in Wiltshire, was a father of three who worked at MGW Law in Devizes.
The trial continues.