Malmesbury's Jole Rider charity ships 12,000th bike to Africa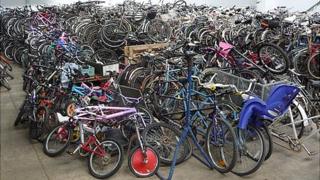 A Wiltshire charity is sending its 12,000th bicycle to Africa.
Jole Rider, based in Malmesbury, has been shipping containers of second-hand bicycles to The Gambia since 2005 so local children can get to school.
The bicycles are donated by the police, individuals and recycling centres and are reconditioned by inmates in several prisons across the country.
The charity's director David Swettenham, said the milestone was "fantastic news".
'Drive up standards'
Every two months, a sea container with a minimum of 330 bikes, books and furniture for schools is shipped as part of the bikes4Africa scheme from a warehouse in Tetbury, Gloucestershire.
David Swettenham, from the charity, said the programme was helping to "drive up" academic standards.
"Obviously it has an impact on the child with the bicycle but it's also having a positive impact on other children in the school," he said.
"There's competition among the students to get allocated a bicycle but they have to behave themselves, they have to work hard and then they might have the chance of getting a bike."