Swindon Council lets cancelled Mela go ahead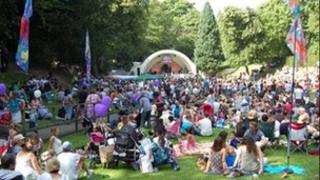 An Asian festival in Wiltshire that was cancelled after its venue's capacity was halved is to go ahead after the council revised its crowd limits.
The Swindon Mela was due to take place on 24 August in the Town Gardens but was called off after the council halved the venue's visitor limit to 5,000.
Organisers said a smaller event would not be "economically viable".
Now the council has offered a "special dispensation" to enable the event to go ahead with a limit of 10,000 people.
The Town Gardens are used for a variety of outdoor events over the summer months, including the annual Swindon Pride.
Councillor David Renard said the Mela was a "really important event in the Swindon calendar" which the authority had "actively supported" over the past 10 years.
Organisers 'delighted'
"Clearly the priority is to make sure that they can get on and organise a successful event for this year," he said.
"But if it's going to continue to be successful, I don't think the Town Gardens can be the long term venue for it.
"And I think now they [the organisers] have accepted that if we're going to attract more then 10,000 people to the event we do need to look somewhere else."
Mela organiser Jaz Bhui said he was "delighted" the council had "enabled it to go ahead" and was willing "to explore options".
"If we're successfully controlling the numbers below 10,000 then maybe we'll be able to carry on with the following event - 2014 in there," he said.
"But if we have crowds exceeding those figures then we're prepared to sit down and look at other venues and options."
A spokesman for the council said there were "several event management issues to resolve" but a firm date for the 2013 Swindon Mela would be available within the next few days.