Swindon cocaine smuggling gang jailed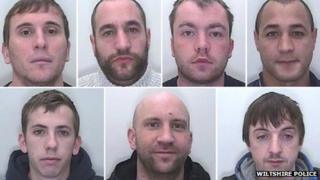 Seven members of a drugs gang have been sent to prison for smuggling cocaine into Swindon.
The operation was led by Albanian Fatos Hamzaraj, 31, who lived in the town, Bristol Crown Court heard.
Class A drugs were brought into the country hidden in cars which had been specially adapted, police said.
Hamzaraj was sentenced to 12 years in jail for conspiracy to supply Class A drugs. Six other men will serve between eight years and 20 months.
Judge Michael Roache said the cut-down drugs had a potential street value of £6m.
Det Insp Steve Kirby said: "In 2011 Wiltshire Police identified that there was an organised crime group working in Swindon responsible for the large scale distribution of cocaine.
"This is the first time Wiltshire Police has taken out an entire organised crime group - from the street dealers to those at the top.
"This was a robust police operation which involved working with several partnership agencies including the Border Agency, DVLA [Driver and Vehicle Licensing Agency], housing associations and Swindon Borough Council's licensing department," he said.
"Specialist officers have put the total approximate street value of the drugs seized at £250,000 but the some of the cocaine we seized had a purity of 97% - the purist the drug can be, so this figure could be much higher. "
Other gang members jailed were:
Paul Boulton, 29, who was sentenced to eight years
Gugliemo Rossi, 29, who was sentenced to six years
Christopher Peter Hemming, 33, who was sentenced to six years
Michael Crossley, 28, who was sentenced to four years
Jack Bowen Jones, 21, who was sentenced to three years
Paul Matthew Bunney, 33, who was sentenced to 20 months
Four other men connected with the gang were convicted and sentenced for other drugs offences in 2011.