Wiltshire Police defend mobility scooter escort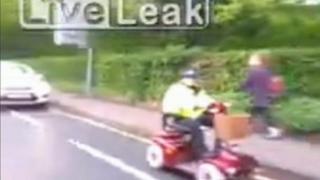 Wiltshire Police have defended using patrol cars to escort a mobility scooter ridden by a police community support officer.
The buggy was being driven to a police station in Salisbury after a man was arrested for theft and assault.
Two patrol cars are seen driving slowly along the road, with the mobility scooter between them.
A police spokesman said they needed to move the scooter to a safe location and this was the "quickest and safest" way.
A 23-second video clip was posted on the LiveLeaks website.