Swindon Mela: New crowd limit stops event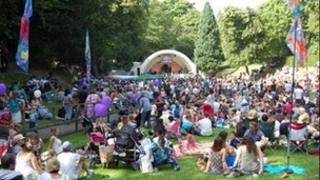 A large Asian cultural festival in Wiltshire has been cancelled because the capacity of its venue has been halved, organisers have said.
The 11th Swindon Mela was due to be held on 24 August in the Town Gardens, which in previous years has had a 10,000 visitor limit at any one time.
Organisers said the council had reduced the capacity to 5,000 and a smaller event was not "economically viable".
Swindon Borough Council has been contacted but has yet to respond.
The site is used for a variety of outdoor events over the summer months, including the annual Swindon Pride.
'Well controlled'
Mela organiser Jaz Bhui said he did not understand "where this decision has come from".
"We only found out two weeks ago," he said.
"We heard rumours and checked the minutes of the cabinet meeting and the documents there said 10,000 - so who and why the decision has been made to drop it to 5,000 hasn't been clarified to us."
Last year, the free event attracted between 18,000 and 20,000 people.
But Mr Bhui said "it was very well controlled" and visitor numbers were kept to "well under the 10,000 at any one time".
'No option'
A Swindon Mela spokesman said other venues had been discussed but they were "far less suitable".
"They all incur increased costs of hiring a stage, additional portable toilets, fencing and extra security including increasing the number of stewards required to run the outdoor event safely and smoothly," he said.
"With such short notice the team felt it had no option but to cancel the event for this year."