Devizes School offers measles clinics after confirmed cases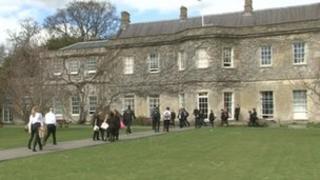 Measles vaccination clinics will be held at a Wiltshire school, after two cases were confirmed in people linked to the establishment.
As well as the confirmed cases, there are another eight suspected at Devizes School, all in children aged 10 to 16.
Pupils and their siblings have been invited to two special nurse-led clinics on 8 and 10 May, from 11:00 to 17:00 BST.
Letters have been sent home to parents about the "precautionary" clinics.
'Cautious and practical'
"We have been working closely with colleagues from the NHS, Public Health England and Devizes School to offer a catch-up vaccine to any children who have not received two MMR doses," said Wiltshire director of public health, Maggie Rae.
"We know that measles can spread easily in settings like this, so we wanted to be cautious and practical, working alongside the very responsive management team at Devizes School to offer a special MMR vaccine clinic at the school."
According to the NHS, the first dose of the measles, mumps and rubella (MMR) vaccine should ideally be given to babies who are between 12 to 13 months old.
Children are given a second dose before they start school, usually between the ages of three and five.