Malmesbury's smallest "in service" church holds service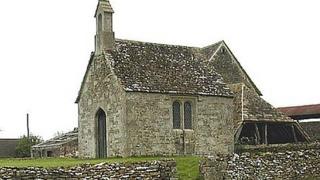 The smallest "in service" church in Britain is to hold its once a year service on Sunday to mark Rogationtide.
The tiny church, on a farm near Malmesbury in Wiltshire, is just 4m (13ft) long by about 3.4m (11ft) wide.
Formerly used to house turkeys, it scarcely has room for a congregation larger than 10 or space for an altar.
Despite its size, The Reverend Christopher Bryan said the service attracts up to 50 worshippers and is a "very important local tradition".
Umbrella warning
For the past 30 years, there has been a service at Bremilham Church.
But with a single pew, which can seat just four people, the annual service has to be held outside the church.
"We have to bring chairs and hymn books in from other nearby churches," said Mr Bryan.
"The organist sits in the church, I stand in the doorway and everyone else sits in a semi-circle outside.
"We advise people to brings umbrellas because if it rains they can't go inside the church."
Before being constituted as a church, the tiny building was used by the owners of Cowage Farm to house turkeys.
But Bindy Collins, the farm's current owner, decided to clean it out and have it blessed by a Bishop when she bought the farm.
"We have to pay for the upkeep of the church, it's in the deeds of the farm, but we like to keep it as a church," she said.
"Both of our children were christened there. My youngest grand child was christened there in 1992 and my husband was buried there."
According to Mrs Collins there was a larger church on the site but it was pulled down in the 1800s and replaced with a "very much smaller" one.
"We're all that's left of the village of Bremilham and the Parish of Bremilham was never very big; it was practically just this farm," she said.
"But why the large church was pulled down, we don't know and nobody knows. It's not in any church records."
The Rogation Sunday Service will be held at Bremilham Church on Sunday from 18:30 BST.