Gleeson calls for judicial review over Malmesbury homes plan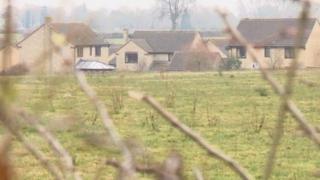 Developers behind plans to build 200 new homes in Malmesbury are to ask for a judicial review after their planning permission was withdrawn.
Gleeson Strategic Land was told in March that a planning inspector had decided it could build the houses.
But the Planning Inspectorate later said the decision was issued due to an administrative error.
The Secretary of State has said he wants to decide on planning permission himself.
The Department for Communities and Local Government (DCLG) said it was considering Gleeson's grounds for a review.
A spokesman for Gleeson claimed: "There is no precedent for the inspectorate to withdraw a planning permission in this way and the clear legal advice we have received is that this permission is still valid.
"It remains in force and it can be implemented, subject of course to compliance with the planning conditions.
"The Secretary of State has no power to recover jurisdiction of the appeal from an inspector after the inspector's decision has been issued."
The spokesman added: "We have put these points both to the Secretary of State and to the Treasury Solicitor who acts for him, but to date we have received no satisfactory explanation from either of them as to what legal powers are claimed which would allow the planning permission to be withdrawn.
"In the circumstances, we have today issued proceedings in the Administrative Court to judicially review both the withdrawal of the planning permission and the direction that the Secretary of State would determine the appeal himself."
A spokesman for the DCLG said: "We confirm that the department has received a copy of the developer's application for permission to apply for judicial review in this case and is considering the grounds."
The plans for the northern edge of the town were originally turned down by Wiltshire Council in March 2012.
The case then went to a planning appeal and a public inquiry.
The planning inspector's decision was issued after listening to that inquiry.